Original artwork, cards and name paintings, as well as a wide range of prints from original work
... or you can even commission your own!
Now with FREE shipping
Artwey is a community of artists based in Weymouth, Portland and Dorchester. Julia and I are both members. Please support their fund raising for Ukraine by clicking this link: www.artwey.co.uk/Art for Ukraine
All paintings are £80.
Both the pictures we have submitted are reduced substantially from their online price if you purchase them via the appeal.
This is Julia's submission for 'Art for Ukraine':
'Night Owl' - original painting using pen and watercolour dye on a digital background. Black frame.
20" x 16" framed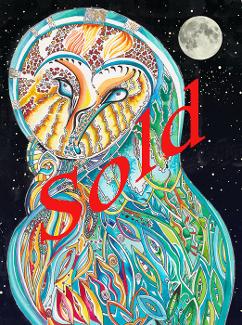 I recently bought Julia's painting, 'Night Owl', the funds for which are being donated to Ukraine. I love Julia's highly creative and colourful art work, and Phil's excellent framing. Thanks to their fast and efficient service I was delighted to receive 'Night Owl' in next to no time at all. He is now hanging on my wall looking very handsome and like he's always belonged there! Thank you so much, both of you, from one very happy customer!

Sally Newbery
This is Phil's submission for 'Art for Ukraine':
'Fiery Forest' - original batik in a light wood frame.
20" x 16" framed.