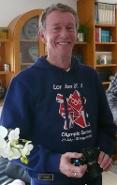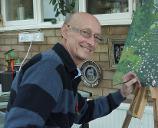 See all our latest news here
Original artwork, cards, name paintings and photographs, as well as a wide range of prints from original work
... or you can even commission your own!
A selection of paintings and pictures depicting a variety of subjects including pen and wash, watercolours, acrylics, pastels and collage. Many pictures are available as framed originals and all can be purchased framed or unframed. If you would like to commission your own painting just let us know the subject matter and finish required!
Designs for names of people, places, favourite teams or pop groups - in fact whatever you like! You choose the name and inform us of any favourite colours you would like included. Special details such as teddy bears, butterflies, trains or spaceships can be incorporated into the design - in fact, whatever you ask for! A3 family name designs also available!
Original photographs of scenes from England and around the world, all available either framed or unframed.
Prints from original oil paintings by Bob Lincoln. Bob has exhibited around the Weald area and commissions of his paintings have found their way as far afield as New Zealand.
We can create unique personalised prints using your own words and photographs.
Collate your memories, remember a special holiday or celebrate a special occasion! Ideal for anniversaries, births, birthdays, weddings or any other special day! The possibilities are endless!